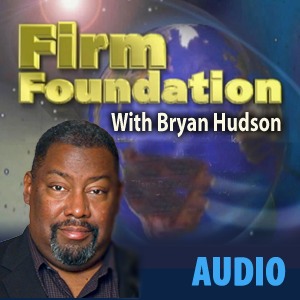 Benefits of a Firm Foundation, Part 4 | Strategies For Success
Oct 7th, 2012 by bryanhudson
The Strategy of One
Matt. 16:18 "Assuredly, I say to you, whatever you bind on earth will be bound in heaven, and whatever you loose on earth will be loosed in heaven. 19 "Again I say[c] to you that if two of you agree on earth concerning anything that they ask, it will be done for them by My Father in heaven. 20 For where two or three are gathered together in My name, I am there in the midst of them.
The power of one is the power to act and get things done. Jesus trained his disciples, men of various backgrounds, to act as one. When we operate under the authority of Jesus, and function as one, we have the backing of heaven itself.
Eph. 4:1, I, therefore, the prisoner of the Lord, beseech you to walk worthy of the calling with which you were called, 2 with all lowliness and gentleness, with longsuffering, bearing with one another in love, 3 endeavoring to keep the unity of the Spirit in the bond of peace. 4 There is one body and one Spirit, just as you were called in one hope of your calling; 5 one Lord, one faith, one baptism; 6 one God and Father of all, who is above all, and through all, and in you all.
Having the power of one begins with becoming one. We must learn to relate to one another.
• Walk worthy of the calling • With lowliness and gentleness • With longsuffering • Bearing with one another in love (not just putting up with, but helping) • Keep the unity of the Spirit in bond of peace
One body, One Spirit, One hope of calling, One Lord, One faith, One baptism, One God and Father, He is above all, through all, and in you all.
Parable - Properties of the number one: You can multiply any number by one and the product will be that number. This is known as the one property of multiplication or the identity property of multiplication. In math its called the "multiplicative Identity Property of One."
One is reflected in the godhead and in marriage: John 17:10 And all Mine are Yours, and Yours are Mine, and I am glorified in them. 11 Now I am no longer in the world, but these are in the world, and I come to You. Holy Father, keep through Your name those whom You have given Me,[a] that they may be one as We are. Genesis 2:24, Therefore a man shall leave his father and mother and be joined to his wife, and they shall become one flesh.
The Strategy of Identification
Foundational instruction from Peter. We are connected to that which is "precious" or honorable. We identify with honor, not dishonor.
1 Peter 2:1 Therefore, laying aside all malice, all deceit, hypocrisy, envy, and all evil speaking, 2 as newborn babes, desire the pure milk of the word, that you may grow thereby,[a] 3 if indeed you have tasted that the Lord is gracious.4 Coming to Him as to a living [Zoe, "having vital power in itself and exerting the same upon the soul"] stone [building stones], rejected indeed by men, but chosen by God and precious, 5 you also, as living stones, are being built up a spiritual house, a holy priesthood, to offer up spiritual sacrifices acceptable to God through Jesus Christ. 6 Therefore it is also contained in the Scripture, "Behold, I lay in Zion A chief cornerstone, elect, precious [honorable] And he who believes on Him will by no means be put to shame." 7 Therefore, to you who believe, He is precious; but to those who are disobedient, " The stone which the builders rejected Has become the chief cornerstone," 8 and " A stone of stumbling And a rock of offense." They stumble, being disobedient to the word, to which they also were appointed. 9 But you are a chosen generation, a royal priesthood, a holy nation, His own special people, that you may proclaim the praises of Him who called you out of darkness into His marvelous light; 10 who once were not a people but are now the people of God, who had not obtained mercy but now have obtained mercy.
Because of foundation, we have been honored as: • Chosen generation • Royal priesthood • Holy nation • God's own special people
Everything connected with the foundation is honorable, which is why we have to examine ourselves.
Paul instructed his spiritual son, Timothy, 1 Tim 2:20 But in a great house there are not only vessels of gold and silver, but also of wood and clay, some for honor and some for dishonor. 21 Therefore if anyone cleanses himself from the latter, he will be a vessel for honor, sanctified and useful for the Master, prepared for every good work. 22 Flee also youthful lusts; but pursue righteousness, faith, love, peace with those who call on the Lord out of a pure heart. 23 But avoid foolish and ignorant disputes, knowing that they generate strife
In Christ, we identify as: 1. Temple (structure/worship) 2. Household (family/accountability) 3. Body (structure/function) 4. Bride (covenant/intimacy/adornment) 5. Bread (process/nourishment 6. Nation (identity)
Share
|
Download(

Loading

)