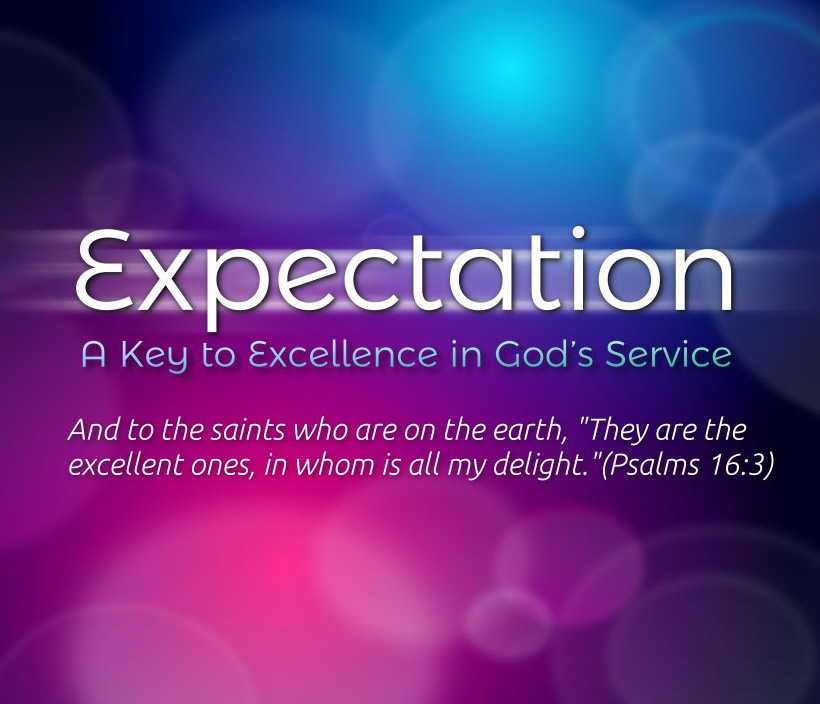 Expectation: The Key to Excellence in Leadership and Follow-ship
Jun 3rd, 2018 by bryanhudson
Expectation: The Key to Excellence in Leadership and Follow-ship
Preserve me, O God, for in You I put my trust. O my soul, you have said to the LORD, "You are my Lord, My goodness is nothing apart from You. And to the saints who are on the earth, "They are the excellent ones, in whom is all my delight."(Psalms 16:1-3)
For the earnest expectation of the creation eagerly waits for the revealing of the sons of God. (Romans 8:19)
According to my earnest expectation and hope that in nothing I shall be ashamed, but that with all boldness, as always, so now also Christ will be magnified in my body, whether by life or by death. (Philippians 1:20)
Brethren, join in following my example, and note those who so walk, as you have us for a pattern. (Philippians 3:1)
Therefore we also, since we are surrounded by so great a cloud of witnesses, let us lay aside every weight, and the sin which so easily ensnares us, and let us run with endurance the race that is set before us, looking unto Jesus, the author and finisher of our faith, who for the joy that was set before Him endured the cross, despising the shame, and has sat down at the right hand of the throne of God. For consider Him who endured such hostility from sinners against Himself, lest you become weary and discouraged in your souls. (Hebrews 12:1-3)
Remember those who rule over you, who have spoken the word of God to you, whose faith follow, considering the outcome of their conduct. Obey those who rule over you, and be submissive, for they watch out for your souls, as those who must give account. Let them do so with joy and not with grief, for that would be unprofitable for you. (Hebrews 13:7, 17)
Expectation defined: The state of one who looks forward to something; Expectancy, Anticipation, Something that is expected; Hope, Intention, Motive, Notion, Prospect
Expectation is cultivated by focus, placing our attention to the right/best things, having high standards, mutual submission, and good ethics.
One of the greatest things we can do for one another, and for ourselves, is to have high expectations. We live in a world of low expectations followed by low achievement and low morals. It has been shown that people will rise to meet the reasonable expectations of parents, leaders and other key persons in one's life.  Leadership and fellow-ship are essential ingredients.
Leaders' and followers' characteristics and expectations. 
We all alternately lead and follow. How will we follow creates moral authority to lead. Leadership and follow-ship must be in balance as it relates to mutual responsibility and covenant relationship.
Philippians 2: 2 Therefore if there is any consolation in Christ, if any comfort of love, if any fellowship of the Spirit, if any affection and mercy, 2 fulfill my joy by being like-minded, having the same love, being of one accord, of one mind. 3 Let nothing be done through selfish ambition or conceit, but in lowliness of mind let each esteem others better than himself. 4 Let each of you look out not only for his own interests, but also for the interests of others
LEADERSHIP
L oving support, direction, and re-direction when needed 
E ncouragement during difficult seasons
A ccountability to others
D evotion to God in every area of life
E ffective prayer life that bears fruit
R eadiness to go first where others are expected to follow
S teadfastness in doctrine and service
H igher goals and standards which lifts others to new dimensions of living
I ntegrity and honesty in all dealings
P reaching and teaching anointed of God, born of extensive preparation
FOLLOW-SHIP
F earlessly, strongly and visibly support recognized leaders
O pen heart to new understanding and new directions
L ove your leaders with covenant love; do not allow others to "run them down" 
L earn from their example; be inspired by the works of God manifested through them
O ppose satan in any way he tries to manifest himself; cover your leaders and God's vision through intercessory prayer and supplications
W ork and move constantly toward the stated vision and shared goals; search for the wisdom of God in helping to bring the vision to pass
S upport leaders publicly and privately, recognizing the enemy's efforts to "smite the shepherd and scatter the sheep"(Zechariah 13:7)
H helping leaders by responding quickly and removing concerns
I  nsight on mission, messages, methods
P reared to serve when called upon and helping when not called upon
Share
|
Download