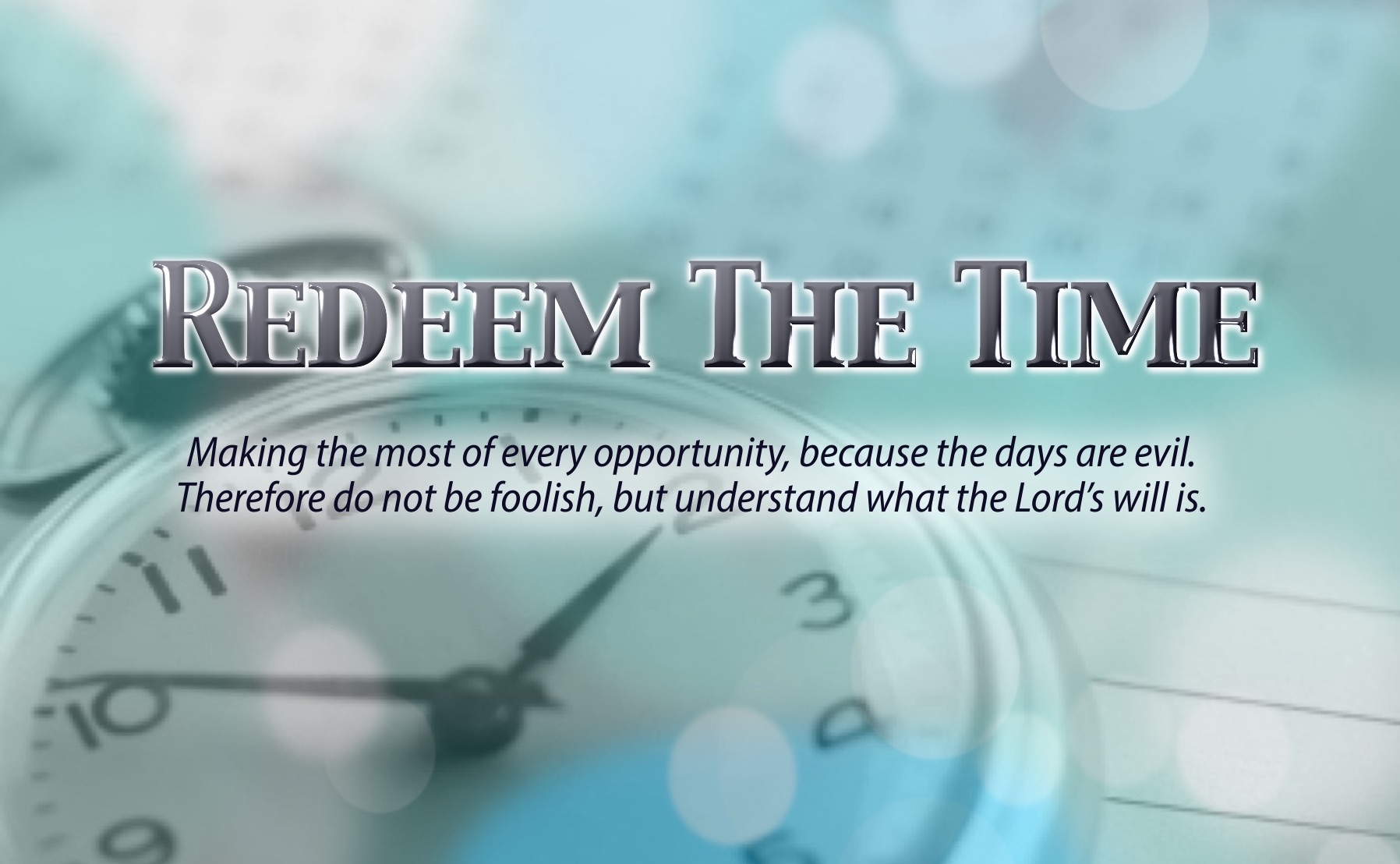 Redeem The Time: Keys to Maximizing Opportunity
Dec 6th, 2020 by bryanhudson
Ephesians 5:16
Be very careful, then, how you live—not as unwise but as wise, 16 making the most of every opportunity, because the days are evil. 17 Therefore do not be foolish, but understand what the Lord's will is. 
KJV Verse 16, Redeeming the time, because the days are evil.
"The opportunity of a lifetime must be seized in the lifetime of the opportunity." 
~ Leonard Ravenhill:
"You can't make up for lost time. You can only do better in the future." 
~ Ashley Ormon
Chronos is "Clock Time"
Kairos is God's "set time" or  "maximizing opportunity"
A Biblical Understanding of Time
1. The purpose of God should be the motivating factor in our lives. He expects us to rightly use the time we have on the earth. 
2. Time is the interval between the eternal past and the eternal future which has been created for God to redeem and restore creation and humankind. 
3. Time allows God to move in seasons to fulfill His purposes. 2 Tim,1:9, "Who has saved us and called us with a holy calling, not according to our works, but according to His own purpose and grace which was given to us in Christ Jesus before time began"
4 . Redeeming the time is a Biblical mandate and a command from God. Time should not be misused. It is a non-renewable resources. Time moves in one direction only.
Who am I?
I am your constant companion. I am your greatest helper or heaviest burden. I will push you onward or drag you down to failure.
Half the things you do you might just as well turn over to me, and I will be able to do them quickly, correctly. I am easily managed - you must merely be firm with me. Show me exactly how you want something done, and after a few lessons I will do it automatically. I am the servant of all great people; and alas, of all failures as well.  Those who are failures, I have made failures. I am not a machine, though I work with all the precision of a machine plus the intelligence of a human being. You may run me for a profit or turn me for ruin - it makes no difference to me.
Take me, train me, be firm with me, and I will place the world at your feet.Be easy with me and I will destroy you.
Who am I? I AM HABIT. "HABIT" IS MY NAME!
Share
|
Download