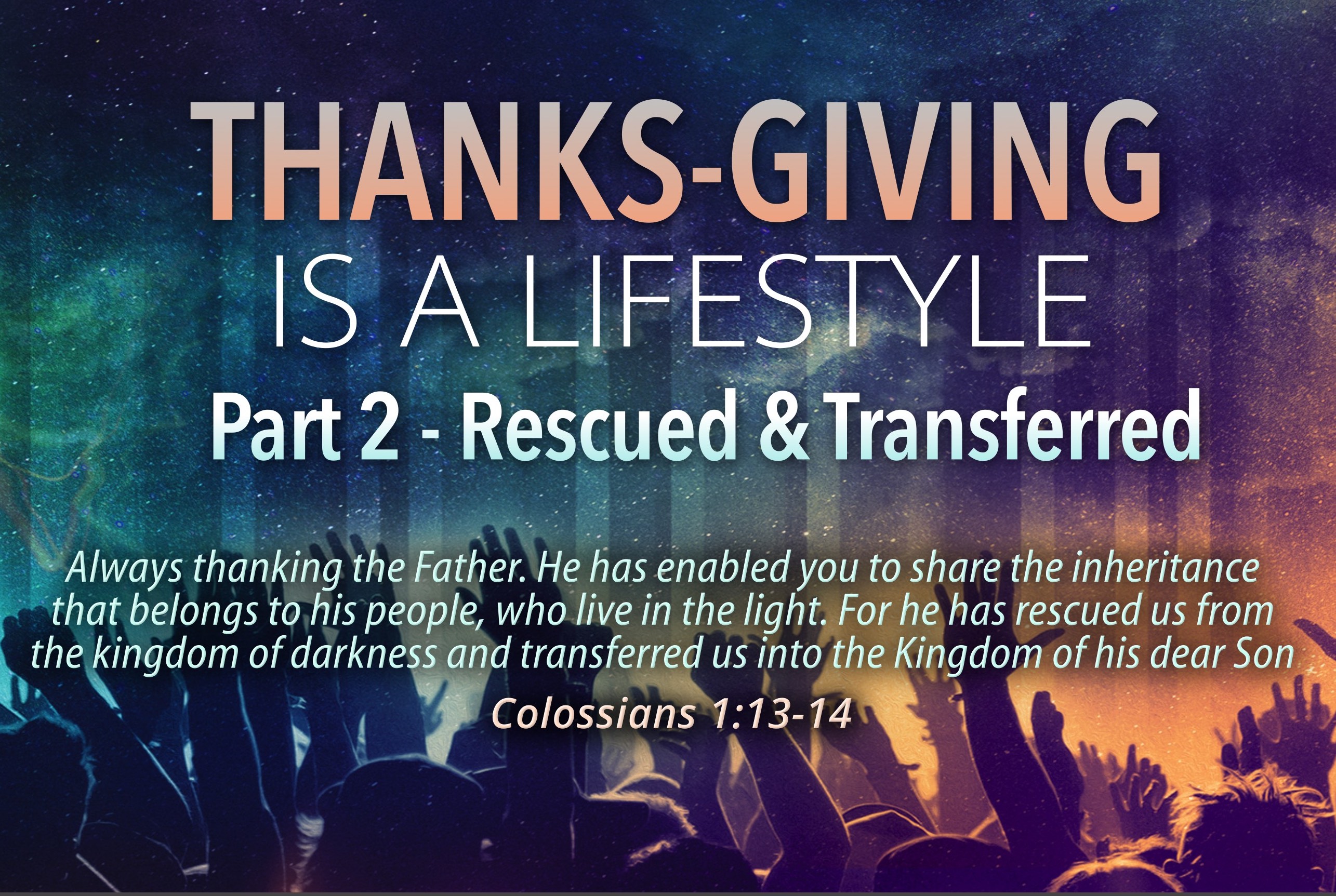 Thanks-Giving is a Lifestyle Part 2 - Rescued & Transferred
Nov 10th, 2019 by bryanhudson
1 Thessalonians 5:17 Pray without ceasing, 18 in everything give thanks; for this is the will of God in Christ Jesus for you.
Paul's prayer
Colossians 1:9 (NLT) So we have not stopped praying for you since we first heard about you. We ask God to give you complete knowledge of his will and to give you spiritual wisdom and understanding. 10 Then the way you live will always honor and please the Lord, and your lives will produce every kind of good fruit. All the while, you will grow as you learn to know God better and better. 11 We also pray that you will be strengthened with all his glorious power so you will have all the endurance and patience you need. May you be filled with joy, 12 always thanking the Father. He has enabled you to share in the inheritance that belongs to his people, who live in the light. 13 For he has rescued us from the kingdom of darkness and transferred us into the Kingdom of his dear Son, 14 who purchased our freedom and forgave our sins.
Anytime you see the expression of being thankful it is not there as a filler word, it is there for a very specific purpose. Giving thanks is in the central part of any prayer because Thanksgiving opens you to something greater.
You remember that the first mention of Thanksgiving was connected to something called a peace offering. The peace offering was a free will offering unlike any other offering for Israel back in that day of law, requirements and mandates.
You will remember that we said, Thanksgiving comes from peace and peace leads to thanksgiving.
Giving thanks opens your heart and mind to God and to his supply quicker than anything else. The text says the word thanking God who has enabled us to partake of an inheritance in the light. Stop and think about that: we actually have access to something that God has provided to us. Giving thanks is like a key or combination to open the door.
RESCUED
Have you ever faced a danger, such as a near miss while driving, or some other situation that could've ended badly? What's the first thing you said? You said thank you!
We are all escapees! We are like escaped slaves! We been delivered! We got out! We made it over!
Think for a moment what your life would be today without Jesus Christ, without the family he gave you, without the church and Teachers he gave you.
Jesus literally purchased our freedom and forgive us our sins. Where would we be without Jesus and his church?
The great Mahalia Jackson performed a song
How I Got Over
How I got over
How did I make it over?
You know my soul look back and wonder
How did I make it over?
Tell me how we got over, Lord
Had a mighty hard time coming on over
You know my soul look back and wonder
How did we make it over?
Tell me how we got over, Lord
I've been falling and rising all these years
But you know my soul look back and wonder
How did I make it over?
But, soon as I can see Jesus
The man that died for me
Man that bled and suffered
And he hung on Calvary
And I want to thank him for how he brought me
And I want to thank God for how he taught me
Oh, thank my God how he kept me
I'm gonna thank him cause he never left me
TRANSFERRED
Have you ever had experience of experiencing a transfer to something better or an upgrade?
One of the best things when you travel away from home is to be booked into one hotel room and get upgraded to a better room.
When I travel to Raleigh North Carolina last month to be a part of the 20th ministry anniversary of Pastor Williams I checked into a new Hampton hotel. I came early so I room wasn't ready for me, but because I was a Hilton rewards member, the lady gave me a king suite. I walked in there put my bag down a big smile came on my face!
I received a transfer! I didn't deserve it, I could've done without it, but I received it anyway!
There is no better transfer than your heart and mind to be moved out of the realm of worry, fear, anxiety, and all the limitations connected with this world the kingdom. To be transferred into the kingdom of the son of God's love is an incredible reality!
New king James version says, 13 He has delivered us from the power of darkness and conveyed us into the kingdom of the Son of His love,
Not only have you been transferred into a kingdom, you've been transferred into the Kingdom of God in Jesus Christ, who is the Son of his love!
There are four keys to this transfer
It is a transference from darkness to light. Without God men grope and stumble as if walking in the dark. They know not what to do; they know not where they are going. God has given us a light by which to live and by which to die.
It is a transference from slavery to freedom. In Jesus Christ there is liberation.
It is a transference from condemnation to forgiveness. He knows now that he is no longer a condemned criminal at God's judgment seat, but a lost son for whom the way home is always open.
It is a transference from the power of Satan to the power of God. Through Jesus Christ man is liberated from the grip of Satan and is able to become a citizen of the Kingdom of God. Transferred into the Kingdom of the Son of his love. Redeemed by the blood and forgiven of all sins
Psalm 89:15 Blessed are the people who know the joyful sound! They walk, O Lord, in the light of Your countenance. 16 In Your name they rejoice all day long, And in Your righteousness they are exalted.
Share
|
Download