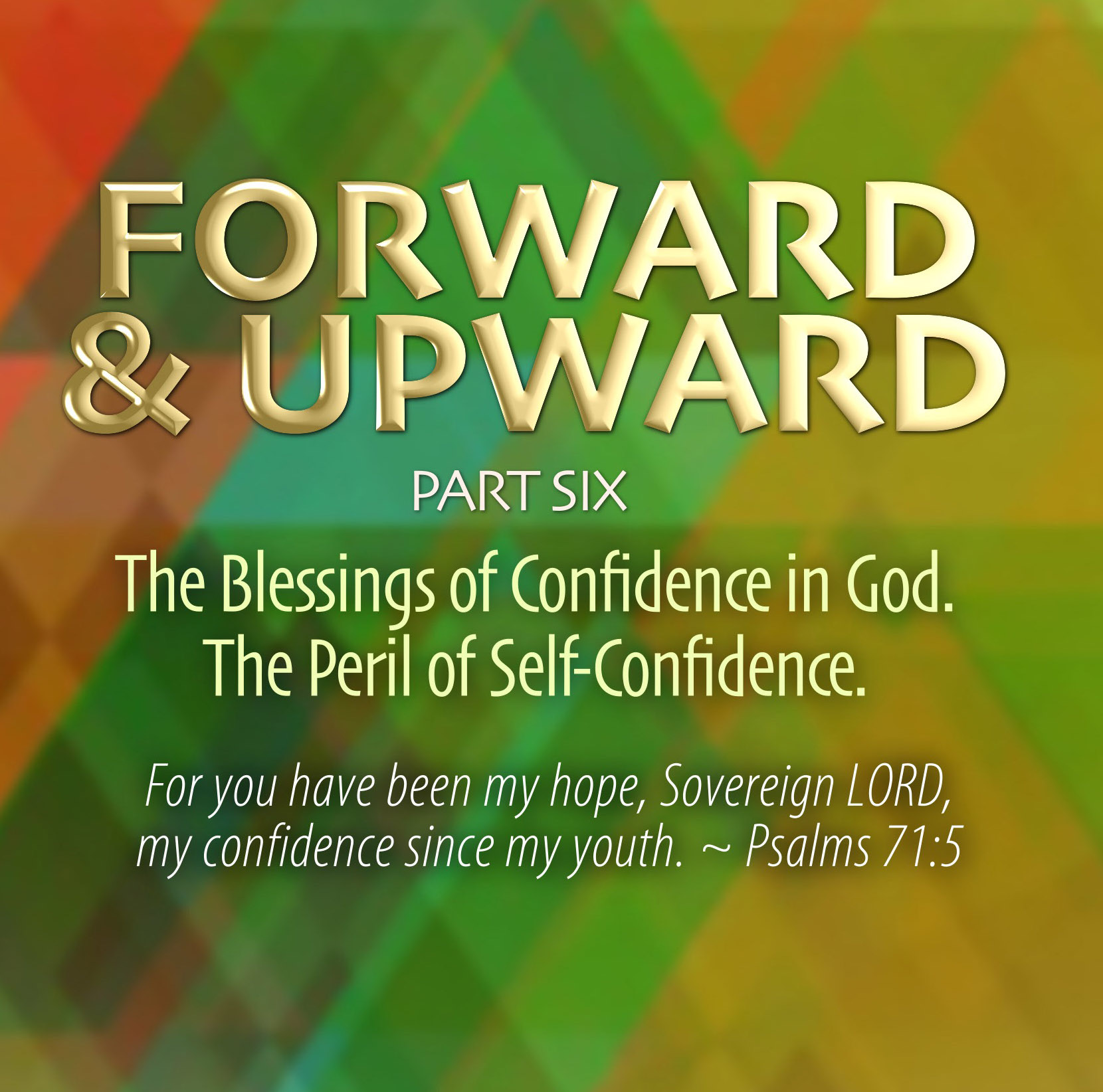 The Blessings of Confidence in God & The Peril of Self-Confidence - Lesson from Hezekiah
Feb 18th, 2019 by bryanhudson
Forward & Upward
Part Six, The Blessings of Confidence in God. The Peril of Self-Confidence.
Psalms 71:5 For you have been my hope, Sovereign LORD, my confidence since my youth.
Confidence is an important part of life and an important part of your life. Confidence is part of your way forward and upward. We all have our understanding of what confidence is, but I would like to explore what the Bible says about confidence.
There are basically two kinds of confidence: 1) Confidence in the Lord and in what he has given you. 2) Self-Confidence.
Confidence in God and skill makes you strong and allows room to make you stronger.
Self-confidence is limiting because it depends on what you think of yourself. Self-confidence gets all mixed up with self-esteem.
True confidence comes from skill. Skill comes from training and repetition
The advantage we have in Christ is that we always trust in a power bigger than ourselves. Like Paul said, "I can do all things through Christ who strengthens me." (Philippians 4:13) 
What you cannot say is, "I can do all things through myself." Let me give you an example
If both pilots become incapacitated and the head steward makes an announcement: "We have an emergency, both of our pilots are unconscious, can anyone here fly an airplane?" Someone stands up and says, "I don't have pilot training but I have confidence!" 
Proverbs 14:16 "...A fool rages and is self-confident."
That kind of confidence is just happy talk. We have a of confident incompetent people from White Castle to the White House. You never need someone who only has self-confidence. You need someone who has confidence in skills that they actually have. As believers, we need confidence in the strength of God through Christ. Strength is not a mindset, it is actual ability.
What David said: Psalms 27:3 Though an army may encamp against me, My heart shall not fear; Though war may rise against me, In this I will be confident. 4 One thing I have desired of the Lord, That will I seek: That I may dwell in the house of the Lord All the days of my life, To behold the beauty of the Lord, And to inquire in His temple. 5 For in the time of trouble He shall hide me in His pavilion; In the secret place of His tabernacle He shall hide me; He shall set me high upon a rock.
Philippians 1:6 being confident of this very thing, that He who has begun a good work in you will complete it until the day of Jesus Christ
We have faith in the promises of God. We are confident in what God is doing in us and in what has given us. Confidence follows faith and sustains it. Confidence is our inner image of the purpose of God being fulfilled through us. "
Hebrews 11:1 Now faith is the substance of things hoped for, the evidence (or confidence) of things not seen.
Share
|
Download