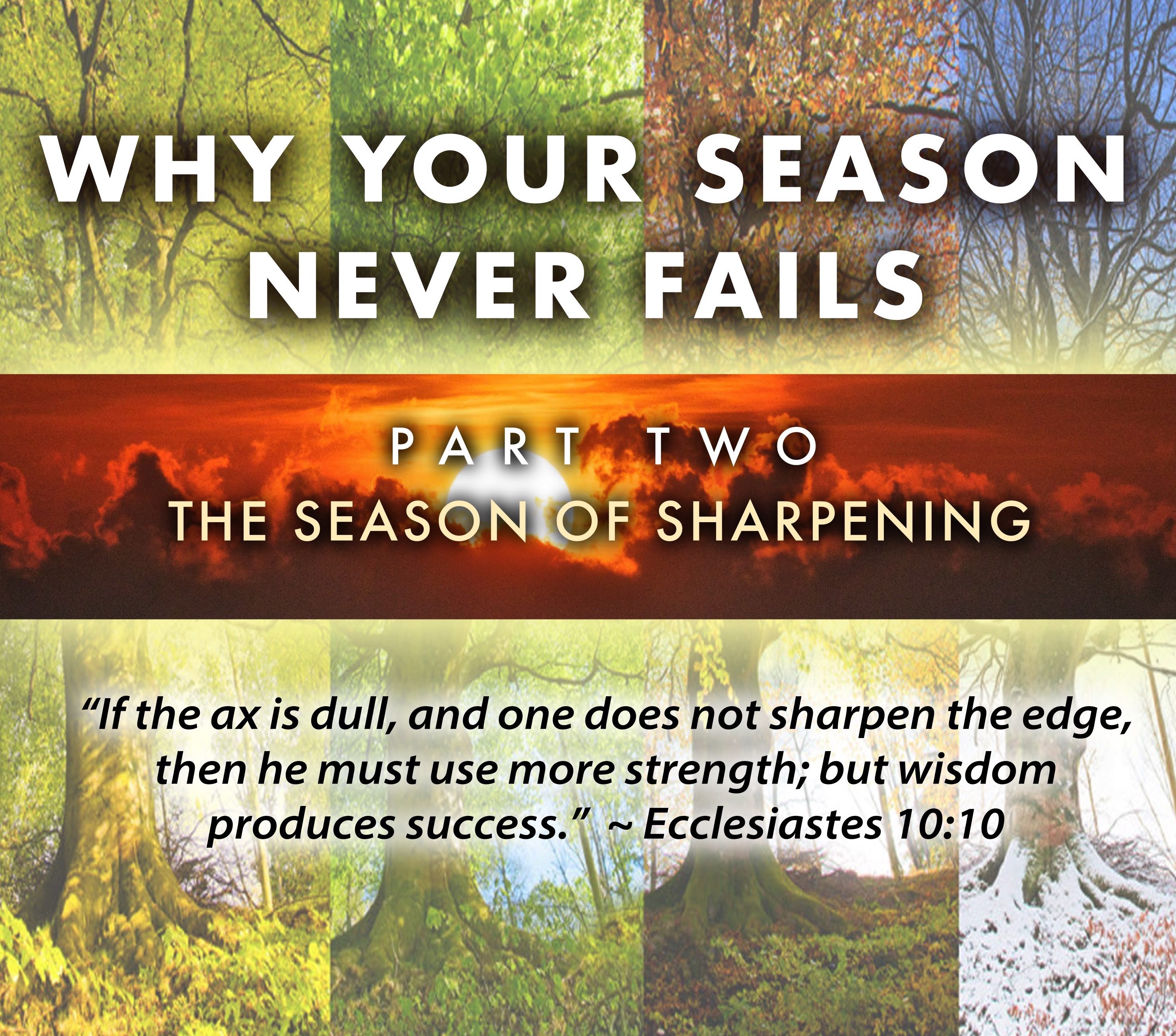 "Why Your Season Never Fails," Part 2 - "The Season of Sharpening"
Apr 14th, 2019 by bryanhudson
"Why Your Season Never Fails," Part 2 - "The Season of Sharpening"
Ecclesiastes 3:1, To everything there is a season, A time for every purpose under heaven:
We need to be sharpened to get our sharp edge back on.
"If the ax is dull, and one does not sharpen the edge, then he must use more strength; but wisdom produces success." Ecclesiastes 10:10
Since a dull ax requires great strength, sharpen the blade. That's the value of wisdom; it helps you succeed. Ecclesiastes 10:10 (NLT)
If the ax is dull and its edge unsharpened, more strength is needed but skill will bring success. Ecclesiastes 10:10 (NIV)
Luke 24:45 Then he opened their minds so they could understand the Scriptures. 46 He told them, "This is what is written: The Messiah will suffer and rise from the dead on the third day, 47 and repentance for the forgiveness of sins will be preached in his name to all nations, beginning at Jerusalem. 48 You are witnesses of these things. 49 I am going to send you what my Father has promised; but stay in the city until you have been clothed with power from on high."
Acts 1:12 Then they returned to Jerusalem from the mount called Olivet, which is near Jerusalem, a Sabbath day's journey. 13 And when they had entered, they went up into the upper room where they were staying: Peter, James, John, and Andrew; Philip and Thomas; Bartholomew and Matthew; James the son of Alphaeus and Simon the Zealot; and Judas the son of James. 14 These all continued with one accord in prayer and supplication, with the women and Mary the mother of Jesus, and with His brothers
Acts 2:1; When the Day of Pentecost had fully come, they were all [a]with one accord in one place. 2 And suddenly there came a sound from heaven, as of a rushing mighty wind, and it filled the whole house where they were sitting. 3 Then there appeared to them [b]divided tongues, as of fire, and one sat upon each of them. 4 And they were all filled with the Holy Spirit and began to speak with other tongues, as the Spirit gave them utterance.
Hebrews 11:6, But without faith it is impossible to please Him, for he who comes to God must believe that He is, and that He is a rewarder of those who diligently seek Him
Most seasons do not affect you, because you don't live in it. 
Sharpening For Your Season:
Connect with God. Connect with your purpose and assignment, Connect with key people.
1. Be a doer of the Word because 
Ecclesiastes 10:18 Through laziness, the rafters sag; because of idle hands, the house leaks.. 
2. Prayer: Individual, corporate
3. True Worship; John 4:23
4. Fellowship: Hebrews 10:24-25; 1 John 2:7
5. Preparation: 2 Tim. 2:15, 1 Cor. 14:12
6. Accountability: Heb. 13:7, 17
7. Faith - Walking by faith, not by sight. 2 Cor. 5:7 ("He who observes the wind shall not sow..." Pr. 11:4)
8. Teaching & Training: 
2 Timothy 4:2 "Preach the word! Be ready in season and out of season. Convince, rebuke, exhort, with all longsuffering and teaching. 3 For the time will come when they will not endure sound doctrine, but according to their own desires, because they have itching ears, they will heap up for themselves teachers."
We are in that time where leaders should not bring what is popular, we should bring what is pertinent.
Popular: "Liked, enjoyed, or supported by many people"
Pertinent: "Having a clear decisive relevance to the matter in hand"
Be like Apollos - Some who is good who can still be sharpened
Acts 18:24 Now a certain Jew named Apollos, born at Alexandria, an eloquent man and mighty in the Scriptures, came to Ephesus. 25 This man had been instructed in the way of the Lord; and being fervent in spirit, he spoke and taught accurately the things of the Lord, though he knew only the baptism of John. 26 So he began to speak boldly in the synagogue. When Aquila and Priscilla heard him, they took him aside and explained to him the way of God more accurately. 27 And when he desired to cross to Achaia, the brethren wrote, exhorting the disciples to receive him; and when he arrived, he greatly helped those who had believed through grace; 28 for he vigorously refuted the Jews publicly, showing from the Scriptures that Jesus is the Christ.
Share
|
Download